Irish Photography Blog Roundup
CROSSING THE STREET # 2
Monday, Apr 22nd, 2019 | Source: The lilliputian
I was delighted last week to meet with Lucky Khambule  a man who now lives in the town of Arklow, co Wicklow. Lucky was1.5 years in 'direct provision' before been given' leave to remain' in Ireland by the department of Justice. Lucky is a very striking presence who carries himself with dignity, respect for all and concern for those who remain in the unfortunate and unnecessary regime that limits their ...
DESTINATION ENGAGEMENT SHOOT CONG MAYO
Monday, Apr 22nd, 2019 | Source: Sligo Ireland Wedding Photographer
Charlissa & Matt, Destination Engagement Shoot, Cong County Mayo Charlissa & Matt were travelling around Ireland from California last week and were celebrating their wedding anniversary too, so I was honoured to capture some relaxed portraits around Cong in Mayo & it's surrounds. Cong Abbey & the surrounding forest area is dripping with history & makes for some amazing backgrounds for pictures, and it's somewhere I love shooting in, but usually ...
Marlfield House Venue Photo Guide
Wednesday, Apr 17th, 2019 | Source: Brosnan Photographic
This month I visited Marlfield House as my next featured venue in my new series of venue visits. Each visit I take viewers following my Instagram stories on a tour of the very best wedding venues and highlight all the key photo locations for morning prep, on-site ceremonies, receptions, and small details. After each visit all the information is compiled in a PDF with photos as a guide for your ...
Not all Superheroes wear capes…
Wednesday, Apr 17th, 2019 | Source: wetnose.ie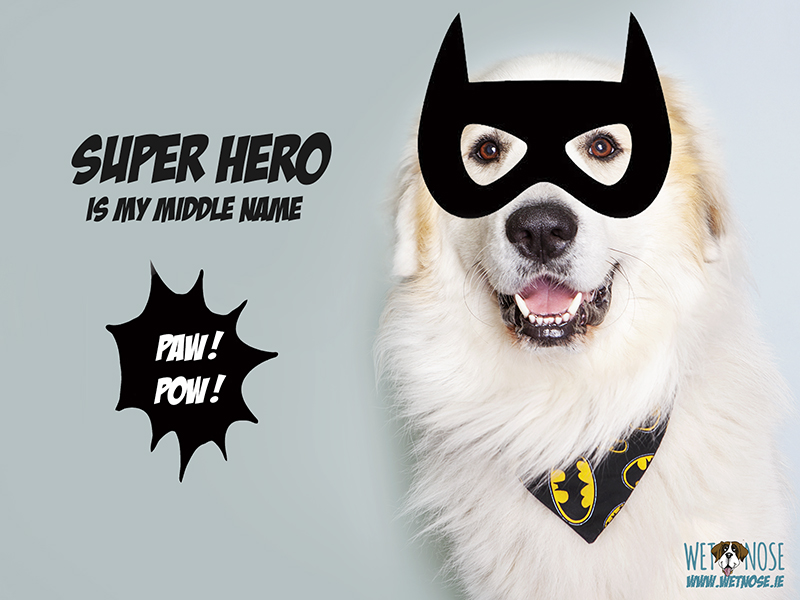 Some of them wear Wet Nose bandanas! The Wet Nose pup up studio visited Equipet over the weekend and it was a brilliantly colourful dog (and bunny, and piggie, and parrot and cat) filled day. Huge thanks to Equipet, Coolock and Equipet, Tallaght for another successfully fun filled time. I couldn't be more grateful to everyone, newbies and pros, who came out to offer giant hugs, kisses, and their best modelling skills. ...
WEDDING 30TH MARCH BALLINA CO.MAYO
Monday, Apr 8th, 2019 | Source: Sligo Ireland Wedding Photographer
Sarah & Glenn, Wedding, Ballina Cathedral to Great National Hotel, Ballina, Co.Mayo I've gone through my history with shooting weddings in Ballina before, but long story short, my first couple whose wedding I photographed back in 2007, were from the area, and through word of mouth after that, I got to shoot & shoot & shoot gorgeous weddings in the town, almost as much if not more than in Sligo town ...
Noel Hillis Photography blog 2019-04-04 17:00:00
Thursday, Apr 4th, 2019 | Source: Noel Hillis Photography blog
I honestly never knew that a wooden spoon placed across a boiling pot, would stop it boiling over. Amazingly, it worked! Art Direction by Helen Burke from IRISH PHOTO AGENCY
ENGAGEMENT SHOOT STRANDHILL
Thursday, Apr 4th, 2019 | Source: Sligo Ireland Wedding Photographer
Katie & Ronan, Engagement Shoot, Strandhill, Sligo On the best day of the year so far, I was playing tour guide to Katie & Ronan, who came over from New York to get their engagement shoot done ahead of their wedding later in the year. They'd never been to Strandhill, and mentioned they'd like their shoot done near the coast. With the day that was in it, that left one place ...
WEDDING 23RD MARCH BALLINTUBBER ABBEY-MOUNT FALCON CO.MAYO
Wednesday, Apr 3rd, 2019 | Source: Sligo Ireland Wedding Photographer
Naz & Fergal, Wedding, Ballintubber Abbey to Mount Falcon, Ballina, Co.Mayo As I get near to having photographed 450 weddings, I can still say that it's great that I get to photograph new things during a wedding day! For Naz & Fergal's wedding a couple of weeks ago, that was getting to photograph both a beautiful Catholic wedding in the always mega Ballintubber Abbey, and also an absolutely gorgeous Persian ceremony ...
Destination Wedding at Lough Rynn Castle
Tuesday, Apr 2nd, 2019 | Source: Brosnan Photographic
From Chicago to the West of Ireland, Elyse and Tomas celebrated their wedding in style at Lough Rynn Castle. Originally from Ireland, Tomas moved stateside as a young child and met Elyse in highschool. Highschool sweethearts, an age old love story. As you may suspect I have a particular soft spot for my couples connected to Chicago and I've been lucky to have quite a few. While Chicago is 'my ...